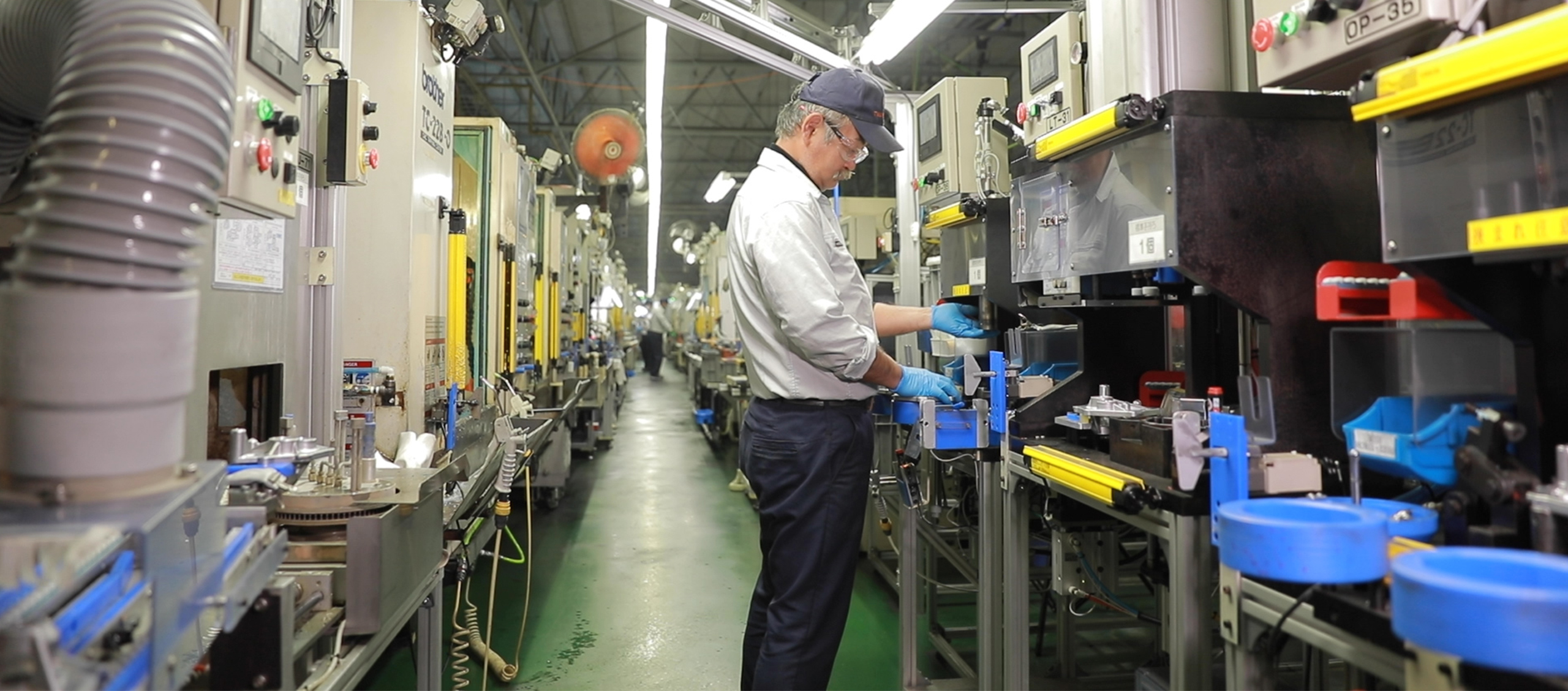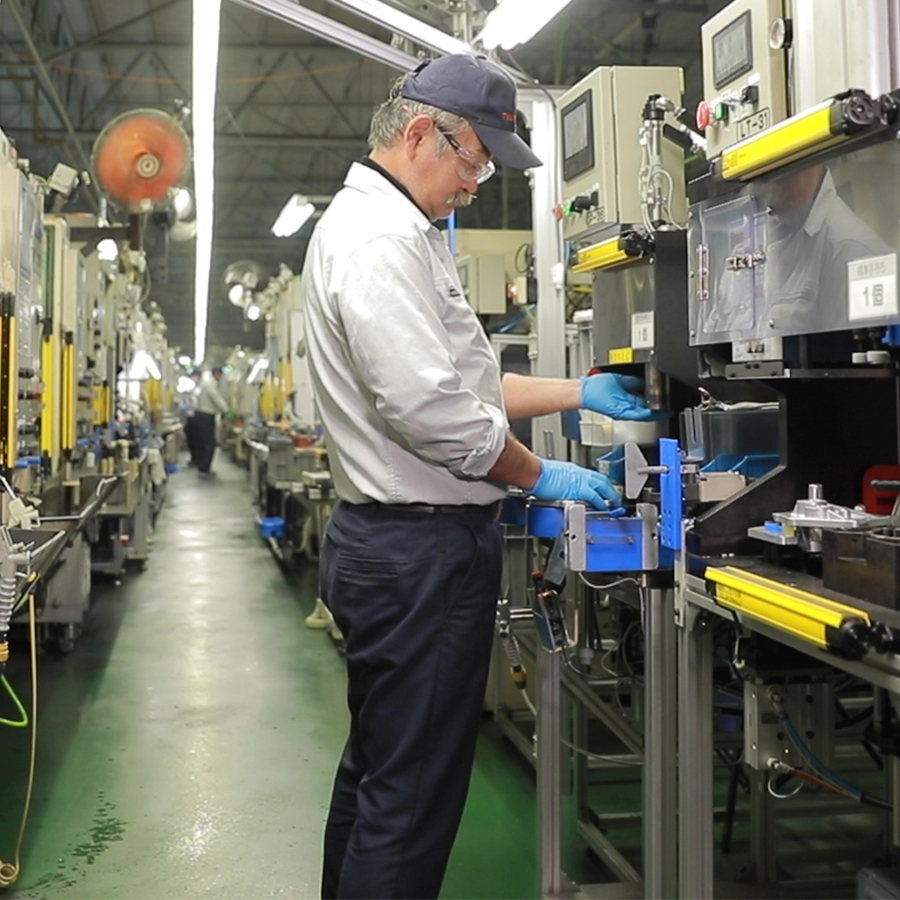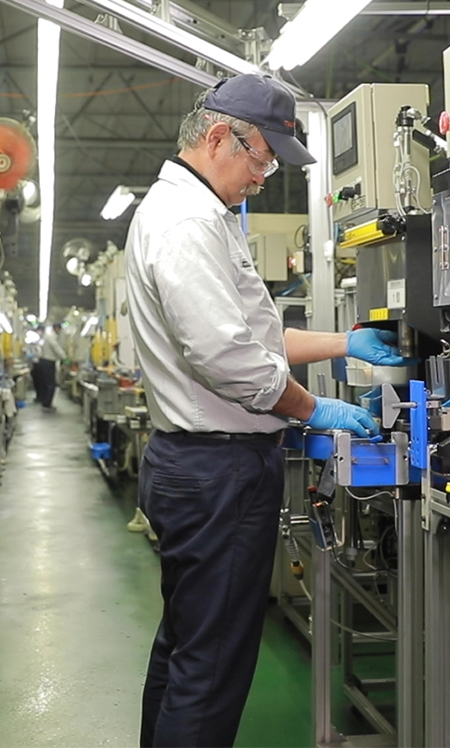 INTELLIGENCE, THE 5 SENSES AND KAIZEN
KSK makes aluminum die-cast products. Our fundamental approach is expressed in the heading. From product development, through to engineering, and finally production: These tasks are performed by people, using their intelligence and their five senses to continuously assess and improve output. All of our products are imbued with this spirit.
DIE-CAST PARTS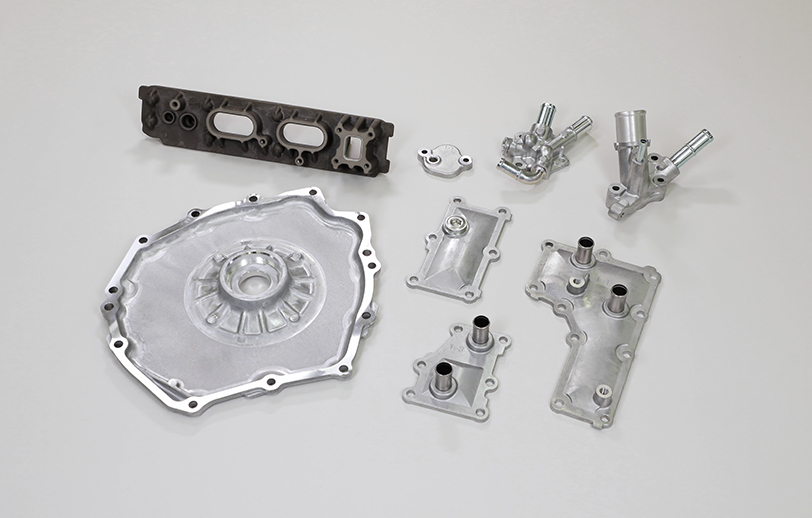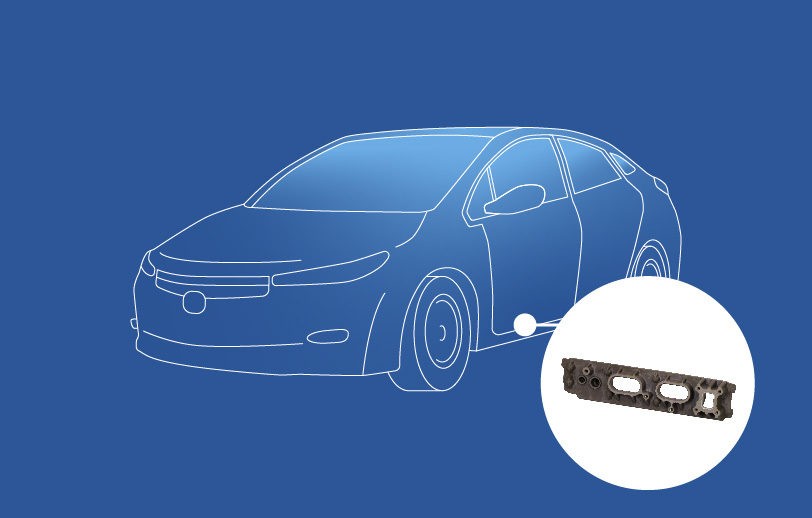 Parts for HV, PHV, EV, FCV
Die-casting Parts: Moving into a New Domain
Growth in demand for hybrid vehicles (HV), plug-in hybrid vehicles (PHV), and fuel cell vehicles (FCV) is expected to continue. KSK already delivers water jacket covers and housing covers for the engines in passenger HVs. Building on that experience, we are currently developing new parts for PHVs, as well as FCV technology.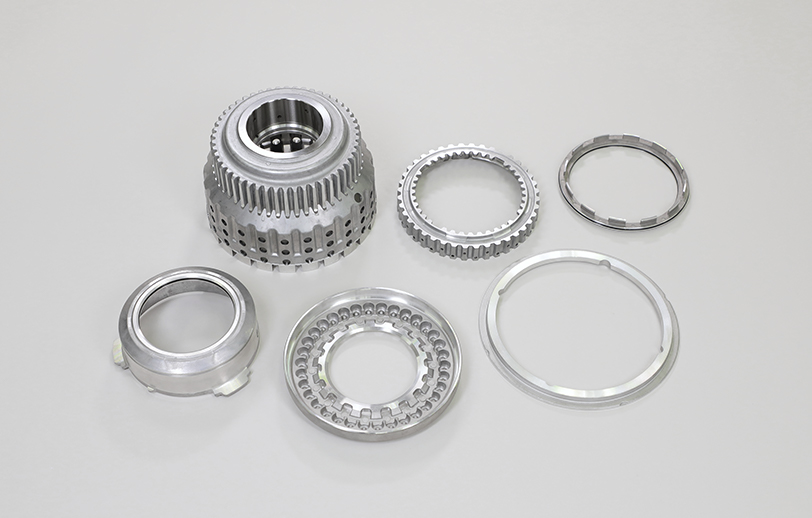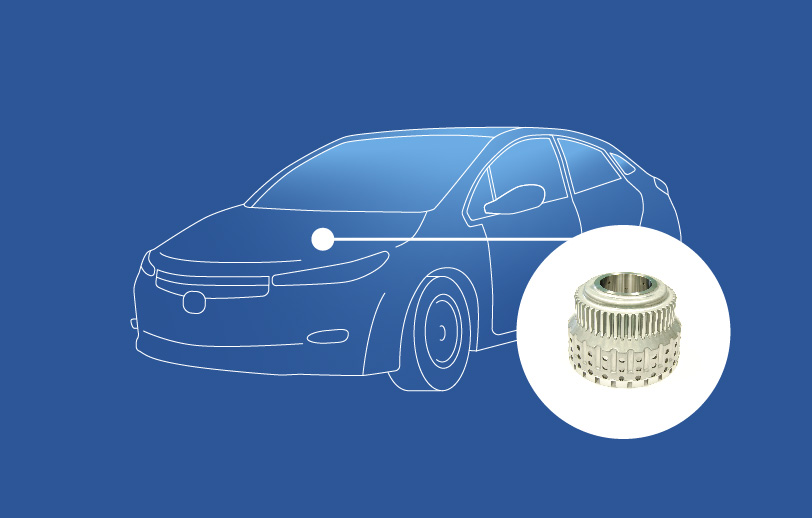 High-Precision Parts
Applying Center Gate Technology
Center gate die-casting technology enables molten aluminum to be poured uniformly into cylindrical-shaped parts, which improves dimension precision, and renders them 'processless' (no mechanical engineering required after casting).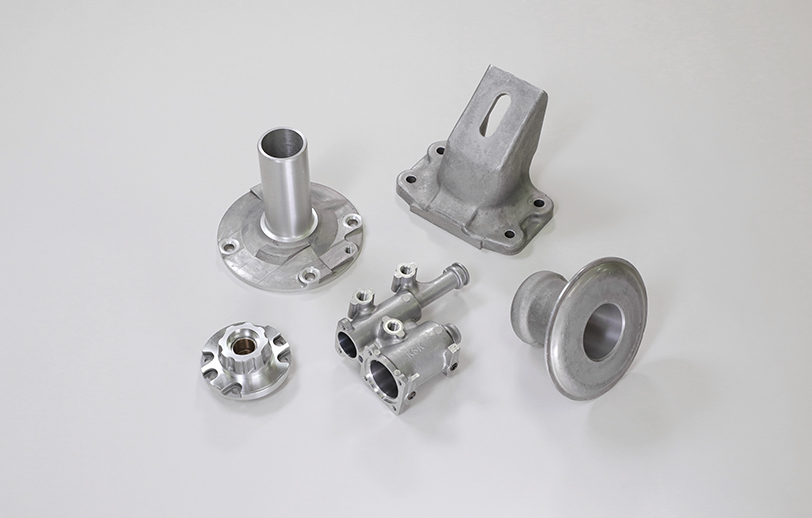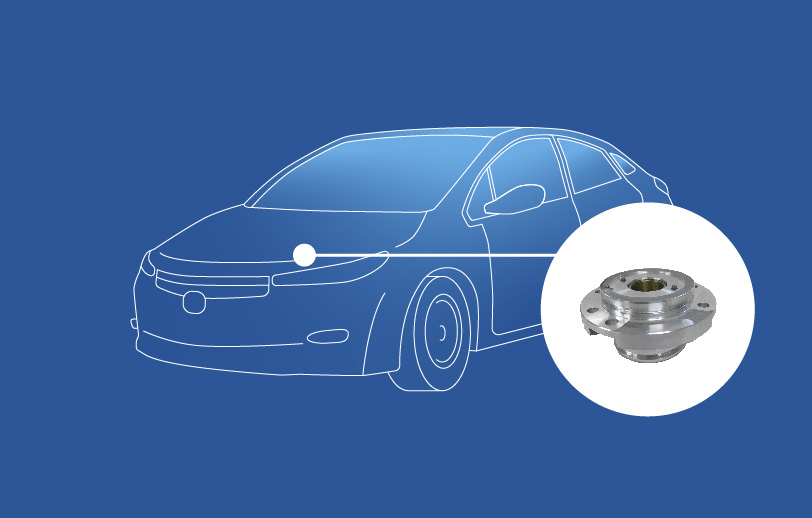 High-Strength & High-Density Parts
Applying Semi-hot Chamber Technology
In comparison to the cold chamber method, semi-hot chamber die-casting reduces blowholes by 80% and creates high-density parts. Through T6 treatment, strength is increased by 20-30%. This allows steel to be replaced with aluminum die-cast material, which enables a significant weight reduction.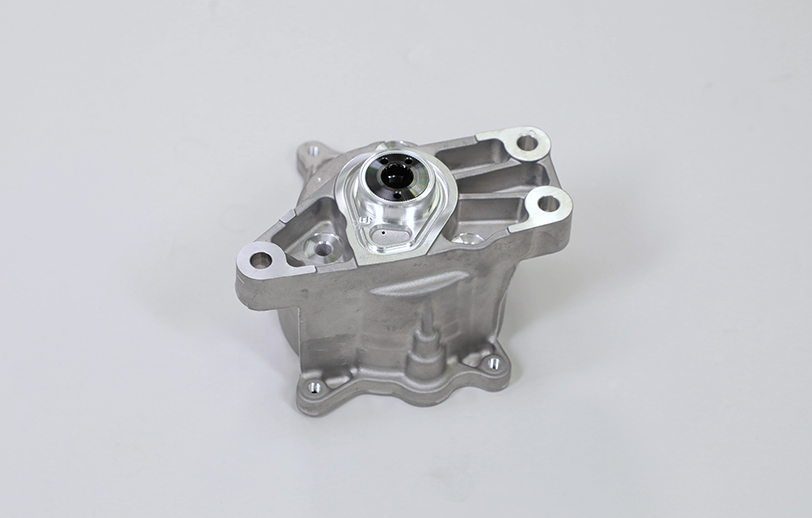 Plastic Flow Binding Parts
Technology for Joining Different Materials
Plastic-Flow Binding is a technology that enables iron parts to be joined with aluminum die-cast parts. The direct fusion of the materials eliminates the need for bolt binding and makes parts more compact, lighter and less expensive. The actuator housing depicted controls the valve lift in the engine. This was the first product where our technology was applied. It was 18% lighter than the preceding model and the costs were reduced by 34%. In the years since starting production, we have delivered more than 2 million of this part.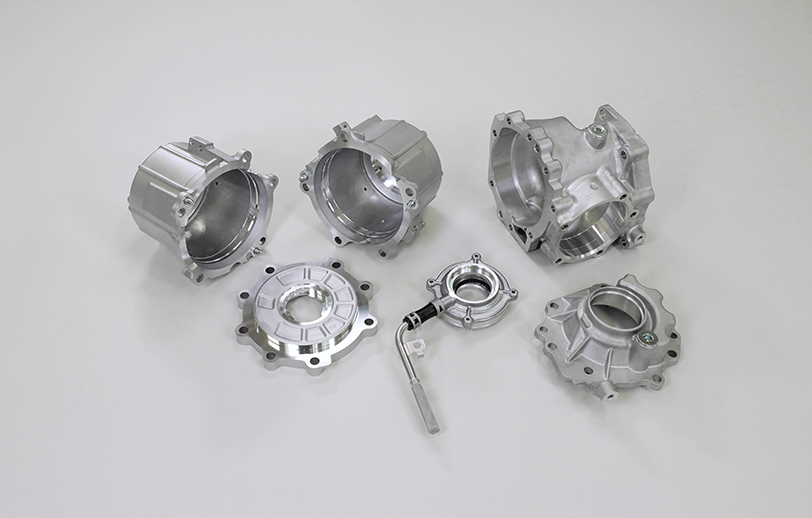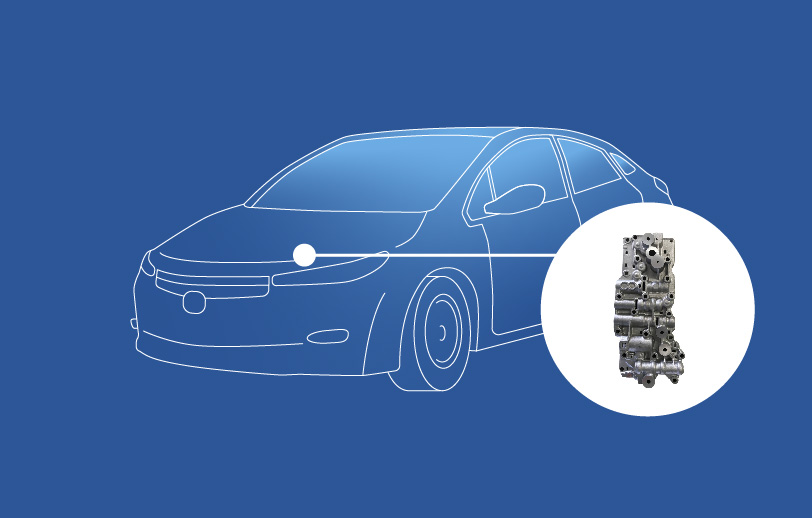 General Die-cast Parts
Combining High Functionality, High Quality - and 'Processless' (without Mechanical Engineering)
Realized in components which combine high-functionality with high-quality specifications, such as CVT valve bodies and AT rear covers.
TRANSMISSION CONTROL PARTS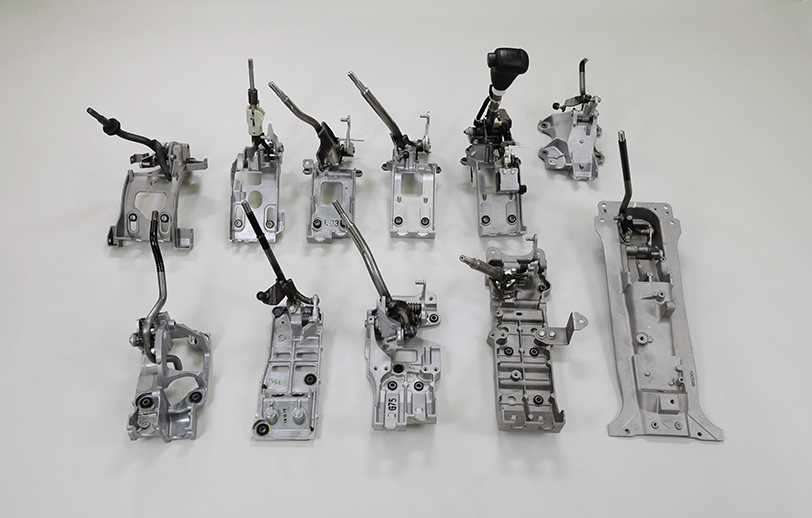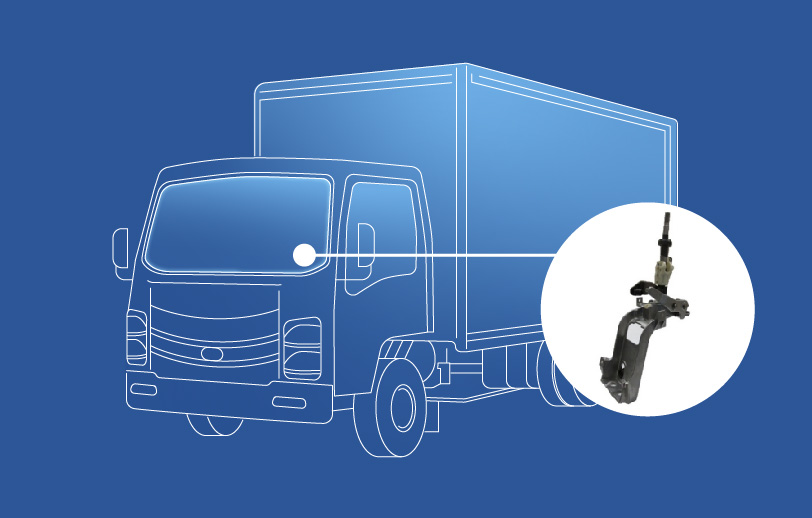 Gear-Shift Levers
Product Line-up Ranging from 'K-cars' (light vehicles) to Large Trucks
Our new gear-shift lever for light trucks is an in-house development. It comes with a patented horizontal folding mechanism. We have a 60% share of the domestic M/T gear-shift lever market for trucks with payloads of two tons and upwards.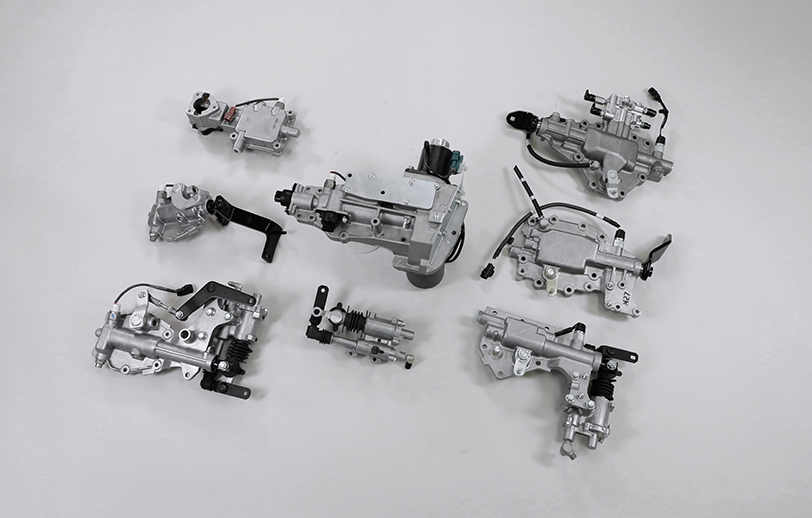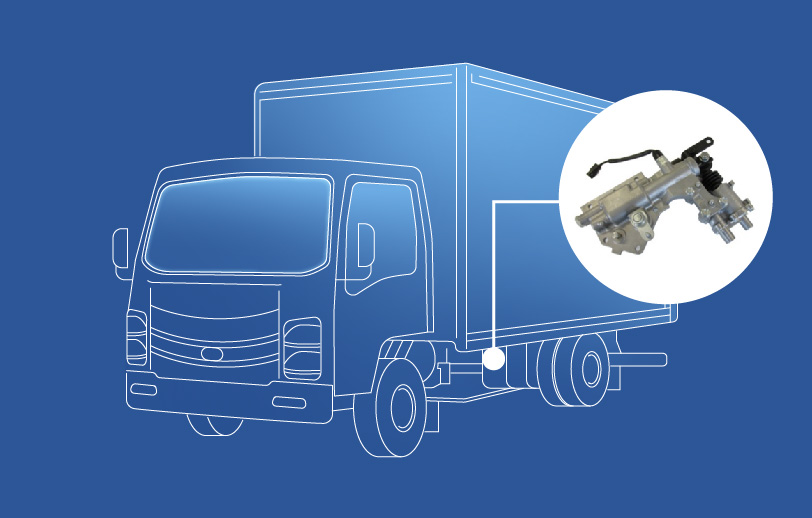 Control Boxes
Providing Solutions from Pick-ups to Heavy-Duty Trucks
Our transmission control systems cover the range from pickup trucks to heavy duty commercial vehicles. We have developed a control box for medium-sized trucks which incorporates a power shift, which means that it can be operated with less force. This results in both weight and cost reductions for the vehicle.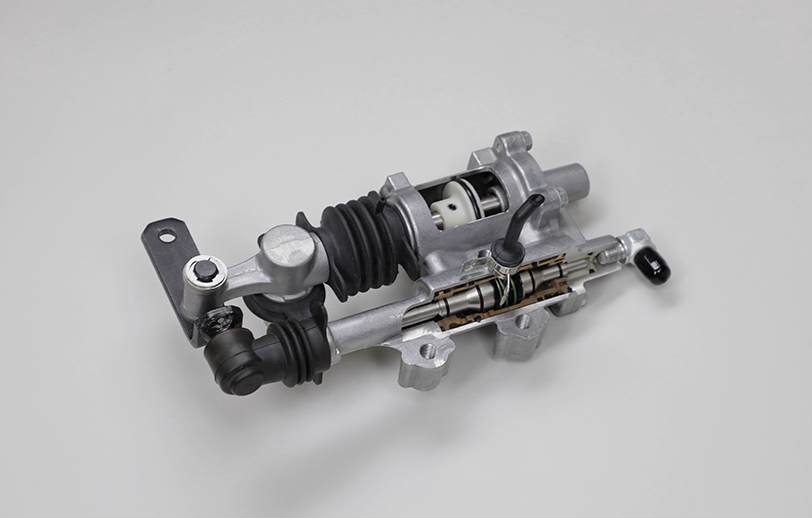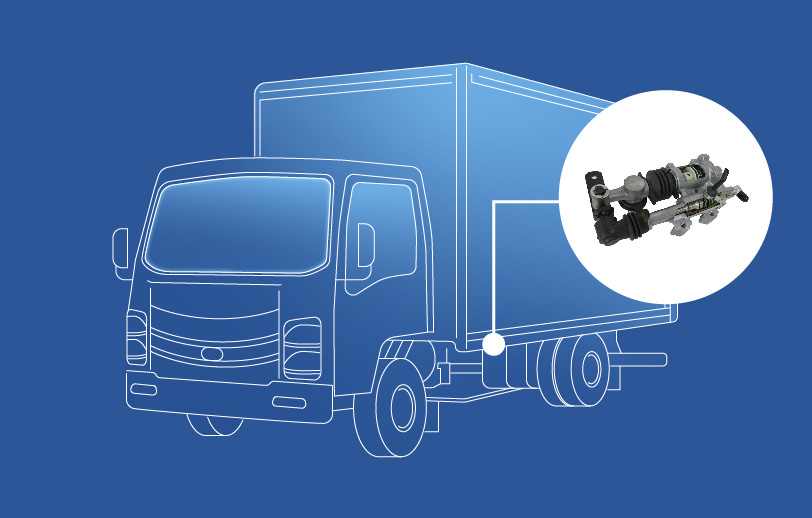 Power Shifts
Two-thirds Weight Reduction Achieved
With an ultra-lightweight structure that is one third the weight of conventional models, our original patented power gearshifts are both inexpensive and compact. This is reflected in our domestic market share for medium-sized trucks of approximately 90%.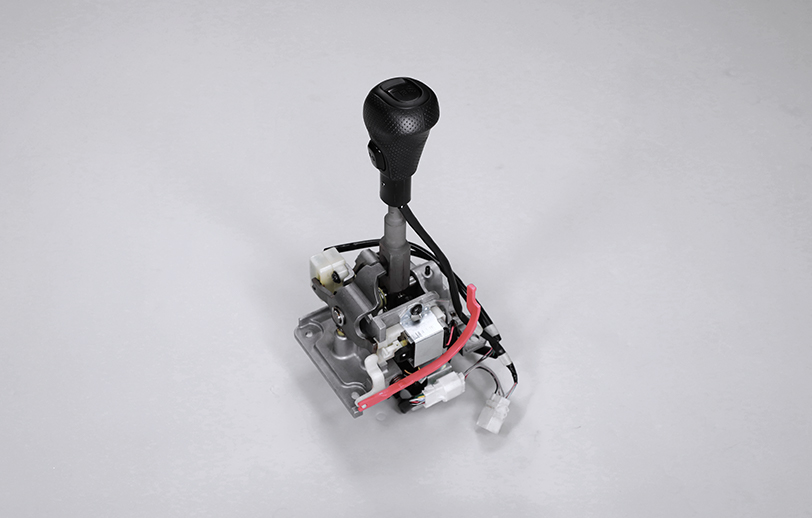 AMT Shift Levers
Cost Reduction Achieved through the Use of Contact Sensors
The use of a mechanism (patent acquired) that combines our in-house developed guide and detent mechanisms has enabled us to achieve a more lightweight and compact product. This has resulted in a significant cost reduction.
Find out more about us